The 1975's Matty Healy Details Their 'Outward' New Album 'A Brief Inquiry'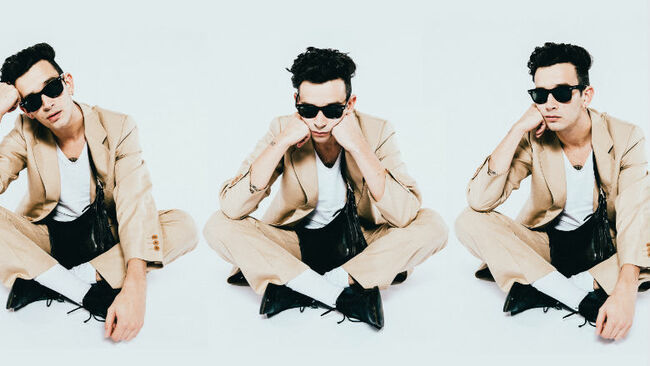 Nothing takes Matty Healy back to his pre-fame youth likes his days filling smokey cars with ambient dance music since he wasn't old enough to get into U.K. pubs. It's part of the creative drawing board that inspired The 1975's new album, A Brief Inquiry into Online Relationships. At 15 tracks, the LP clocks in at just under an hour and sits Healy up in front of a magnifying glass to examine romance by means of technology. "I realized that if I'm writing a record about relationships and the way that they work and then the minutia, you are inherently writing a record about the internet," the 29-year-old Brit told iHeartRadio. "You can't not."
Throughout the album, Healy shapeshifts through various genres as the band steps through puddles of anthemic rock, breezy jazz, and simple feel-good pop. A Brief Inquiry mainly takes a stab at his many questions, resulting in the band's most outward record. He doesn't have answers, but trust, he has a lot of questions. Nonetheless, the album probably wouldn't even be around if Healy didn't kick his substance abuse habits to the side. It jumpstarted a newly-awakened mindset for the singer, who stayed busy after completing rehab. First up, he went to Abbey Road to produce an EP by his protégé No Rome and then worked in a studio outside Oxford with his bandmates for seven months.
Last month, the frontman stopped by iHeartRadio HQ to discuss the album, the dynamic between his longtime musical brothers and just why the seemingly opinionated singer doesn't consider himself opinionated at all. Scroll on below to read our Q&A with 1975 frontman Matty Healy.
A Brief Inquiry to Online Relationships drops at the end of the month. Talk to me about the mission statement that you wanted to carry throughout this project.
It's really difficult to answer eloquently about objectives because it never really feels like there is a particular objective apart from ... it's a very lived thing. This record is being very recorded in many different places, at different times, with different intentions. 1975 records end up being a collection of songs that stylistically don't really sit with each other, but that's because they all have their own kind of mini-objectives within it. To speak of a broad idea apart from what I speak about in a particular moment is really difficult but I think what my intention was will probably become clearer once it's out, because it might not even be for me to say. You know what I mean?
This was the first record that the band did not collaborate with producer Mike Crossey. You and drummer George Daniel produced the whole thing.
We did produce the whole thing. I mean, we were producers, whatever that is, before we did our first record. We were 21-years-old, being a band since we were 13. The idea of just being a band just fizzled away anyway. We started working in that world and I think we've just built confidence with the first two records and Mike kind of ... It's a grueling idea, isn't it? Like being a producer, you have to have creative ideas but you also have to be really good within a form, recording, and understanding those kinds of things. We just spent the past couple of years just really understanding our craft. And then find ourselves with the ability to just fancy ourselves. It wasn't like we felt like we had our wings clipped with Mike, but like I said, the process was so all over the place, recording at my flat at two in the morning and George's house and all these kinds of things. It wasn't really conducive to have another element in there.
It sounds like a very natural progression. Do you remember what song started it all?
"I Couldn't Be More in Love" was written at the end of the session for the second record, I Like it When You Sleep, and that was the thing that I think carried through. We knew that we had this song that we loved a song song as we call it. Do you know what I mean? Like a proper song. I suppose that became a bit of a benchmark if the benchmark was conviction because I would listen to it and I was like, "Right, well, I believe myself." That became the underlying idea for what stayed and what didn't.
You also collaborated a little bit with the London Community Gospel Choir. How did their involvement come about?
We worked with them a couple of times. There's quite a lot of gospel on the last record because there was a lot of me discussing my struggles with faith and all of these kinds of things. It's always been. I think they're amazing. They're pros. I think that it's just like with every record, every 1975 record, we want it to kind be a distillation of what proceeded it. Do you know what I mean? An exaggeration of everything that was there sort of. The poppier moments go poppier, the heavier ones get heavier, etc. It wouldn't really be for me one of our records without them on it.
Bringing it to the next level!
People like Roy Hargrove, trumpet and the flugelhorn player who played on ... I first heard of him through like Voodoo by D'Angelo and records like that. We were lucky enough to have him pay on the last record, Play on A Brief Inquiry, a bunch and actually play on our next record, which is going to come out next year and he died like last week. It's been really sad because it was the first time that any of that has graced our music -- that we've lost somebody who has been so intrinsically involved. There's a lot of it now for me is a dedication to him because we learned a lot from him. We really did learn a lot about melody and stuff from him.
The band's never really been one to shy away from tackling all these subjects. What narratives are you most excited or eager to tackle with this project?
I've had a profound and not profound revelation where I realized that it's not even a very interesting point to make when I say, let's say like outside of this communication that we're having now, me and you, face to face talking that all of our communication is kind of mediated through the internet. It's just going to happen on the internet whether it was like me ringing FaceTime and Jen to find out where to come here or like, talking to my girlfriend. It's not even an interesting observation to say, "Oh well that all happens on the internet." We just know that. But 10 years ago, if you said to somebody that every single moment of communication that exists outside of one to one is going to be through the internet, that's how total it's presence will be, that would be a very strange idea. I think we'd pose questions, like, "Have we really thought about it? What's it going to do?" We just go with these things and we just let them happen to be kind of a social experiment.
I realized that if I'm writing a record about relationships and the way that they work and then the minutia, you are inherently writing a record about the internet. You can't not. It feels quite profound and also not found at the same time to know that, because it's so part of our reality. But, it is weird, because it means what does that mean in 30 years? What does that mean in 10 years?
It's just a strange reality that we're so used to and so total. I'm not a very opinionated person in my music. It may come across that because I'm quite like passionate about ideas that I hold dear to me, but I'm really just asking questions. Is this weird? Should we be doing this kind of sh*t? Am I right? I'm never saying or judging or saying, "Yeah" or "No, you're wrong." I just kind of ask the questions. I wanted it to be an outward record. I just want to know. I don't have any answers, but I've got a lot of questions.
As you mentioned earlier, you and the band have been together since you were 13. What did you learn about them during this process?
Well, we're very much brothers in the essence of everything outside of blood what a brother could mean. I don't know anybody who is as close to their actual siblings, well, maybe a few people, as we are to one another. Starting on this process at like, 13 years old. It's difficult, the kind of apprenticeship into adulthood when you're like one Peter Pan, it's like difficult enough, but four? Like really feed off each other, you know? Like, and then they become popular or whatever, or celebrated at 23, it's like stay 23. But if four of you are all doing that and you're all best friends and then you all have to grow, and drugs and all these things just kind of happened. You're just trying to figure it out. We've really, really just got each other's backs and we learned how intrinsically loyal we are to each other because those things were tested and it wasn't even really a question.
That's been an amazing re figuration process to be with each other for so long to feel kind of strongly all closer than ever. I think that we've just all learned it's easy to sardonic, ironic and sarcastic. It's easier to be like that than to be soppy and naive, and really human. We're just trying to focus on being a bit more like that. For instance, it's easier to be like, "Shh" about everything. I think we've learned sincerity from each other.
As we look ahead, what can you tell us about the next project that's coming out in 2019?
I look back things that I said about Brief Inquiry a year ago and it's bullsh*t. It's just complete conjecture. I think that's all it would be. But we always go back somewhere, like a period in our life of when we were listening to one type of thing or there's a very memory-based visual paradigm to draw from. The whole project of both albums is under the umbrella of Music for Cars and the consumption of dance music and ambient music and the U.K. in smoke-filled cars, and not in pubs, because you were not old enough to get in. That's a very, very big part of my life. That's the big thing we've been drawing from. I think a lot of people who come from that or even don't come from that will really engage with it. I didn't need to be from Chicago to love John Hughes movies, so I'm sure it'll be a thing.
This conversation has been edited for length and clarity.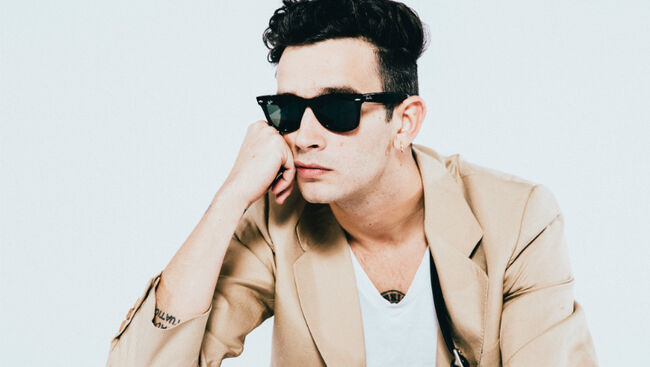 Photo: Rachel Kaplan for iHeartRadio